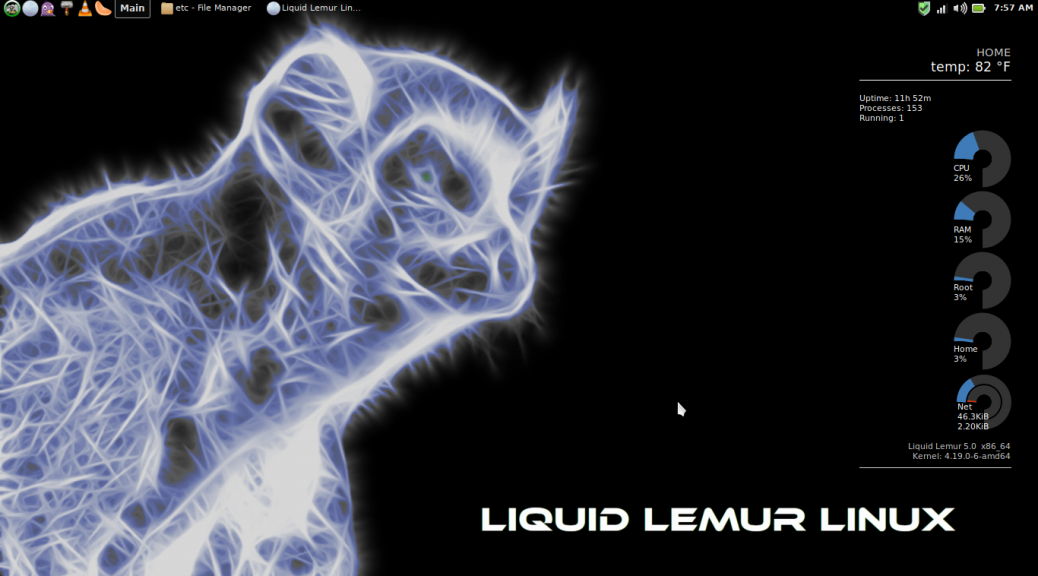 Lemur 5 Coming Soon!
Lemur 5 Coming Soon!
Development is underway on the next release of Liquid Lemur Linux, Lemur 5. The release will bring some major changes to the Lemur OS and fix a lot of issues.
The Debian base that Lemur uses will still be Debian 10 as in Lemur 4, but it will be rebuilt from scratch this time. The WM/DE will still be Window Maker, but in its hybrid form (as it is in Lemur 4) as shown in the screen shot above this article. The Morpher tool will be discontinued, as plans going forward call for Lemur to stay in its current hybrid state.
There will be changes to the custom Lemur apps, as noted below:
Apps to be discontinued: Lemur Dock, Lemur iDesk, Lemur Panel, and Lemur Installer (replaced by Debian Installer/Calamares). Apps to be updated: Lemur Quit, Lemur Apps Menu Updater, Device Manager, Plymouth Manager, and Lemur Updater (mint-update). Apps getting a complete redesign: Lemur Control Center (replaced APEman), Lemur Autostart, Lemur Favorites, Lemur Welcome, and Lemur Conky.
Lemur 5 will finally bring UEFI compatibility and support for booting from USB thumb drives to the table. Both of these have been thorns in Lemur's side for awhile now. I'm glad to have these resolved now.
Lemur 5 will also see changes in default apps lineup. I will be trimming the fat, so to speak. Additionally, Lemur 5 will be less dependent on Xfce bits. There will be new themes / artwork, as seen in the screenshot. A quick-start guide will be ready for Lemur 5 as well. This guide will help you with the basics of operating Lemur. A more in depth guide will follow sometime later. And last but not least…Lemur 5 will ship with the 5.x kernel.
A lot of work on Lemur 5 has already been completed. However, there is still much work to be done before a release. Stay tuned…