RIP – Liquid Lemur
RIP – Liquid Lemur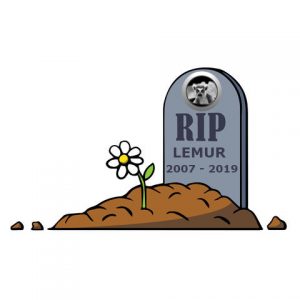 A sad day for all things Lemur! However, the time has come to put Lemur to rest for good. I really wanted to keep Lemur alive and see it grow to what it once was. But it seems it is not to be. I just can't do it alone! A few people offered to help in various ways / areas and I graciously accepted their help. However, after letting them know I welcomed their help, I never heard from them again! Not to mention the Lemur user base seems to be non-existent. Most of the forum members are spammers. So again, it's a dark day for Lemur.
Many know the history of Lemur and many don't. Lemur was originally conceived back in 2007, as Palemoon Linux. It later became known as Liquid OS, and finally as Liquid Lemur Linux (aka: Liquid Lemur or just Lemur). Lemur was fairly popular for a bit and had multiple editions, both in 32 and 64 bit. Just at Lemur's peak I had to let it go. I had a family emergency and I handed it off to the other developers that were working with me. Over the years to follow, Lemur went dormant and / or was discontinued a time or two. I kept bringing it back to life though.
I never really, publicly talked about the family emergency…until now. Some of you already know it. Anyway, my younger brother had been diagnosed with a life-ending brain tumor and sadly he passed away at the age of 35 years old. I kept Lemur alive because it was my connection, of sorts, to my brother. See, during the course of my brother dealing with his brain cancer he had gone to Duke University for experimental treatment. That was when I learned of the Duke Lemur Center. Since that day, the Lemur website always had a link pointing to the Duke Lemur Center and it still does, for my brother.
As much as I would love to keep Lemur alive, in honor of my brother, it's just to much to handle alone at this point in my life. We had a good run, but honestly it's time to let it go. The Lemur domain is paid for till mid 2020 so the website / forums will remain online till then. I've turned off new registrations on the forums though.
I want to personally thank everyone that has been a part of Lemur over the years. Whether you were just a user (even a distro hopper), part of the Lemur staff, or even developers from other Linux distros that helped in the background…you have my deepest appreciation for being a part of the Lemur family!
Thank you all!
Ed Snyder
Liquid Lemur Linux is a proud member of: